The third polish I have to show you from
Violet Rose Polish
is a really pretty lilac glitter. This comes with a matching ring and there are three colours to choose from; Pink, Turquoise and Lilac.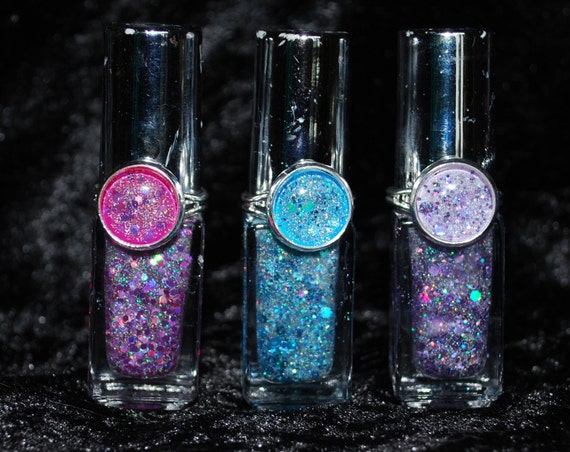 It is such a pretty sparkly glitter and the fact that it comes with a matching ring is such a nice touch.
The size of the ring can be altered to fit which ever finger you prefer. As it comes it fits on my ring finger and I love it :)
Now onto the polish...
I decided to swatch the glitter over a pale, medium and dark purple. To do this I did it in a skittles mani style and it looks gorgeous over each colour :) Application is good and I used two coats of glitter but you could use just one depending on how sparkly you want your nails.
Here are some close ups....
Over the top of Ciate 'Poppet'...
Over the top of Mua 'Frozen Yoghurt'....
Over the top of Nicole by OPI 'Make a Change'....
Make sure you go check these polishes out at Violet Rose Polishs'
Etsy Shop
It has been a privilege reviewing these gorgeous polishes so Thank you to the lovely Emma for sending them to me :)
Thanks for reading :)
George xx